About Us
In 1943 on Mayfield Avenue in Chicago, IL Raymond and Emilia Emerick started the Mayfield Transfer Co., Inc. With their one truck they began their life journey of offering superior service to customers that needed temperature controlled deliveries. As the years went on so did their family participation from their three sons and grandchildren.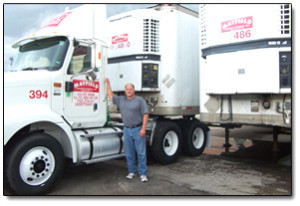 Mayfield Transfer now has over 150 units with four terminals located in the Midwest. Our headquarters are located in Melrose Park, IL. See the contact us page for the specific refrigerated terminal location near you. Through customer demand the Ray Emerick Warehouse and Sunshine Logistics companies were formed to provide a total full service logistics package.
Mayfield Transfer's outstanding employees are a main reason we have been in business since 1943. We deliver respect to our customers and to each other.
Today, Mayfield Transfer is still family run and operated and we look forward to serving you.
Mission Statement
Provide each customer with the absolute best service possible so they are 100% satisfied with every delivery.